Are Mobile Users Returning to Apps After Trying Them Out?
App marketers are focusing on engagement and retention, but are still faced with challenges, like getting users to engage with the app after they download it. According to research, less than a quarter of mobile app users worldwide will return to an app a day after first using it. Read Article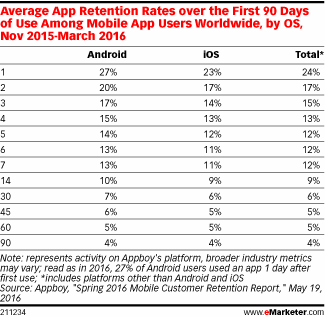 eMarketer Attention! London 2016

Prepare to think differently about capturing, keeping and maximizing consumer attention. eMarketer's first half-day event in the UK takes place June 7, 2016 at The Brewery in London.

Register here.
For eMarketer PRO subscribers
IoT Worldwide: Business Awareness and Investment Vary by Region
Internet of things (IoT) technologies are seeing increased adoption around the world, but awareness and rates of uptake vary by region. Company goals on a region-by-region basis also differ. This brief provides a comparison of businesses' awareness of, investment in and adoption of IoT.
For eMarketer PRO subscribers
What Motivates Consumers to Spend Less Time In-Store

Morgan McAlenney, executive vice president of Digitail at shopper marketing agency The Integer Group, talks about what makes shoppers change their habits and what that means for brands.

Morgan McAlenney

Executive Vice President, Digitail

The Integer Group