eMarketer Webinar: Immersive Media

The first stage of consumer-ready virtual reality (VR) and augmented reality (AR) technologies are coming to market, giving brands and publishers a powerful, new immersive medium for engaging audiences. Join us as we explore the current state of VR and AR technology and what it could mean for your business.

Register here.
Facebook News Feed Puts Friends, Family First
Facebook has announced your News Feed is about to get less newsy, and instead focus more on your friends and family. While many users do get news from Facebook, research suggests that it's not a primary news source for many—and most agree that friends and family are its main reason for being. Read Article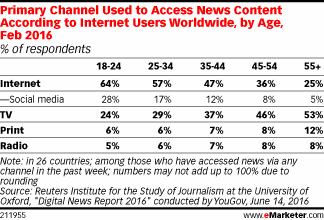 eMarketer Podcast: Multiscreening, Embedded Commerce

In episode 3 of "Behind the Numbers," eMarketer's new podcast, we dissect the new eMarketer estimates for time spent with media and for simultaneous media usage. In the second half we discuss "embedded commerce," or ecommerce that is enabled on social and other non-retail oriented platforms.

Listen now.
For eMarketer PRO subscribers
The New Display Ad Tech Stack: A Simple Guide to a Complex Topic
Buyers and sellers use a variety of tools to automate digital display advertising. This report details common elements of both buyer and seller ad tech stacks and offers an in-depth look at the mechanics behind programmatic advertising.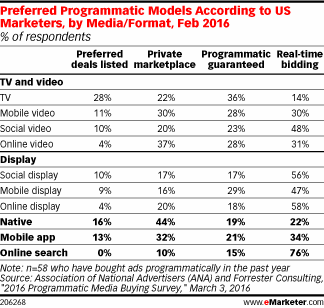 For eMarketer PRO subscribers