eMarketer Personalization Roundup - Download Now

Most marketers are chasing personalization in some form, hoping to make messages more relevant and appealing to potential customers. Download eMarketer's complimentary Roundup to learn what types of personalization are most popular, what it's good for, and what challenges the industry is facing.

Receive my copy.
Is Internet Time All About Apps?
eMarketer estimated earlier in September that more than 80% of smartphone internet time was spent with apps. A similar share of tablet time is spent the same way. Other research agrees: Time with mobile apps represents a huge chunk of digital media consumption. Read Article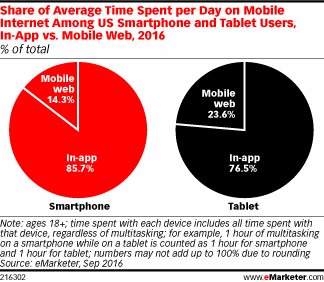 Email Continues to Get More Mobile
US email marketers are having increasing success with mobile devices compared to the desktop. According to August research, mobile devices were driving more email clicks, orders and revenues in Q2 2016 than a year earlier. Read Article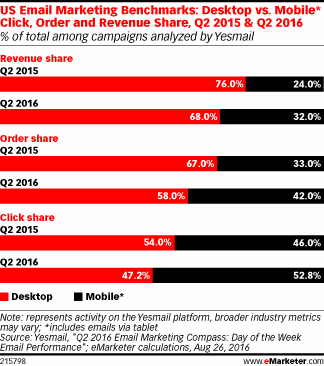 For eMarketer PRO subscribers
Download: Personalization Trends Roundup
Most marketers are chasing personalization in some form, hoping to make their messages more relevant and appealing to potential customers. Download eMarketer's complimentary Roundup to learn what types of personalization are most popular, what it's good for, and what challenges the industry is facing. Download Now